Coding Update Early 2022
Coding Update
AppShed is all about making it easier for teachers to teach computing, and more fun for students to learn it. AppShed's focus has always been to be a platform to teach web development, HTML/CSS, UI Design, and Coding. This coding update is about making sure that teaching coding is as easy, fun, and streamlined as possible.
Blockly Update
Blockly is a great introduction to coding. On AppShed it allows students to add functionality to their apps without any prior coding knowledge. We have updated Blockly on AppShed to the latest version which brings bugs fixes, stability, and a new user interface.
We have taken care to make sure that all of our Blockly lessons and third-party lessons are still fully functional with this update. The only difference you may encounter is that out-of-date lessons may contain images containing the old user interface. However, the block names and the location of blocks are exactly the same.
Have a question? This email address is being protected from spambots. You need JavaScript enabled to view it.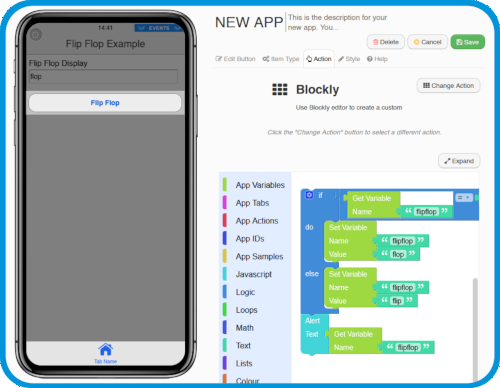 JavaScript Update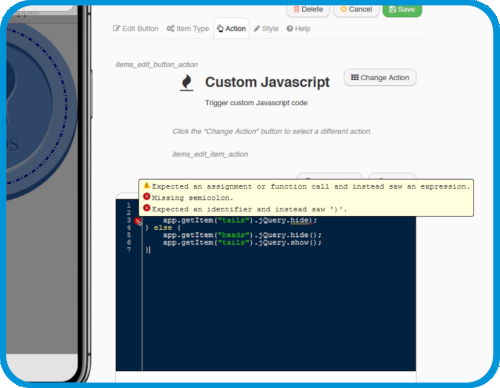 JavaScript really makes anything possible on AppShed. We love to show off the Morse Code app which was made on AppShed using the JavaScript editor. JavaScript is a great language for students to learn as its conceptually very similar to other languages while also having real-world uses to get the students excited.
To make JavaScript more accessible to students on AppShed we have changed the editor to now support live error reporting which will showcase any errors in your code and recommend a fix. We have also added a new syntax highlighter to the editor to further help while coding. Lastly, we have changed the user interface of the editor making the coding block bigger and allowing users to expand it if they need more space.
We have made sure that all of our JavaScript lessons and third-party lessons are fully compatible with this update.
MasterClasses can be booked via This email address is being protected from spambots. You need JavaScript enabled to view it.