JavaScript Lesson 2
Duration: 45 Minutes
Difficulty: Intermediate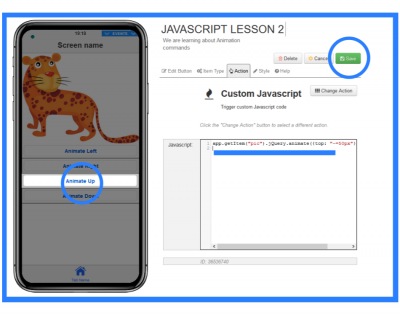 Overview
This lesson is part 2 of the JavaScript Lessons on how to use coding with the App Builder
.
Learning Objectives:
All learners will be able to apply JavaScript to their app
Most learners will fully understand the concepts they are applying
Some learners will take what they learn and apply it to their future projects
Teachers Note:

In Lesson 1 students learned about the Fade and Show commands. In this lesson students will learn about animate commands which they can use to animate things in their apps.
This is valuable as learning text-based coding with students can often be a bit boring when all you see is Hello World in a console. Here students will get the chance to see how their coding can make real-world changes to their app. We find this helps encourage them.
Course ID
1568
Product
appbuilder